Friday, December 2nd, 2011
I realize this is a lengthy and deep post, but I thought some of you might be interested in more details on how color trending happens across multiple design professions. Don't worry, I promise a lighter post next with more pretty product shots.
As an Interior Designer I attend Color Pulse presentations by Benjamin Moore and Colormix presentations by Sherwin-Williams that elucidate the trend forecasts for the design industries for the next couple of years. But how are these trends determined?  Why does a trend appear in products as diverse as Kleenex boxes, dresses, side tables and pillows?  Why do cobalt blue and Yves Klein blue seem to appear on everything from dresses and necklaces to dinnerware at the same time? How does the trend message get translated across multiple design professions ranging from product design, fashion design, automobiles, interior furnishings and fabrics, to decorative accessories? And why does it matter for interior designers and homeowners?
Trends are influenced by the quickly moving global influences we are all being exposed to on a daily basis.  Clients are exposed to these influences as well, so designers need to be up to date on the latest trends in order to discuss and execute these trends for their clients when requested.  Understanding the current color directions is essential for designers in every industry because clients will compromise on form but not color.
Mark Woodman explains that "trends and forecasts are often considered one and the same, but there are some fundamental differences. Trends tend to be evolutionary, as their directional movement is often strongly linked to a prior trend. … In the realm of color, the nuances of a particular hue will evolve within the trend's time cycle…."  For example, gray has become more popular in recent years, but now it is evolving from cool tones to warmer brown-grays and then it will move towards grey with blue in it by the end of 2013.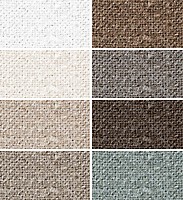 Above: Belgium Linen drapery fabric options from Restoration Hardware.  Warmer brown-grays emerging in color palette options.
Forecasts look ahead to what has not happened yet, but can be anticipated.  "Seemingly disparate ideas merge to predict accurate direction in design and color." For instance, London's Global Color Research sensed the expected mood of the new economy and the heavy feelings associated with a new world order and formulated the concept of "Ransom" reported in the 2010 issue of Mix magazine as an upcoming trend.  Their sources included Hitchcock heroines and film noir, resulting in a palette of deep blue, black and gray for a classic, accessible feel with a touch of foreboding.  Looking at the color trends in everything from tile to window treatments, I definitely observed this palette making a strong presence in 2010 and 2011.
Trend trackers in each design field are watching patterns emerge around the globe and condensing the information they take in into key trend messages that they can apply to their industry.  The trends they spot are in the formative stage and won't reach widespread popularity for 2-3 years on average.  Since product design such as car color selections and fabrics for furniture are developed years ahead of when they reach the consumer market, this trend forecasting is essential for companies to be on trend when their product is released, rather than being behind the trend curve.  For more details on current car colors (which I think I've discussed before, ex. copper and orange becoming more popular, see this article.)
So how does an influence evolve into a trend resulting in mass consumer sales? A good example would be Mad Men, the TV series on AMC that first aired in 2007, which grabbed hold of the nation's collective consciousness. Its influence can be seen in both the resurgence of 1960s curve-hugging lady-like fashions on the runway in recent years, and the shift from 1950s Danish teak mid-century modern furnishings to 1960s influenced trapezoid and other geometric forms in furniture and fabrics. Chrome, ceramics, and etched barware perfect for that drink cart in almost every Mad Men scene are also making a resurgence.  Consumers want an escape from the gray reality of the economic downturn, so nostalgia for the space age optimism of the 1960s accounts in part for the rise of this trend.
Above: Note the trapezoid shape in the chair, the mid-century styling of the dresser and the retro influence on all patterns in this new collection from Villa Roma.
So who determines what the next trends will be? Color Marketing Group is an international association for color design professionals who forecast color directions one to three years or more in advance for products and services.  They focus on identifying color and design trends and then translating those into salable color options.  Their motto is: "Color sells, and the 'right' color sells better." Color forecasters from around the world and different areas of expertise get together semi-annually to develop annual forecasts that are used in industries as diverse as fashion, interior design, transportation, industrial design, graphics, cosmetics and more. The value of this information is seen in the experiences of their members.
The color forecasts prepared separately by Benjamin Moore and Sherwin-Williams concisely distills influences from around the globe into several easy to understand trend directions. They utilize images from diverse sources ranging from designs by indigenous populations to scientific imagery to illustrate the patterns and then explain how these influences are being translated into early product designs at the front of the trend curve.
Above: Color Mix 2012 Color Trends illustration (see a larger example at their website)
Trend trackers often consult with companies in multiple design related industries, which in part accounts for trends showing up in different industries at the same time.  When a trend starts to connect with consumers in one industry companies in other industries will embrace it as well.  Consumers are interested in showing their personalities across all platforms of their lives.  One's car, clothes, jewelry, shoes, kitchen accessories, furniture, house color, and art are all a reflection of personal style.  Companies recognize that, and by embracing the trends already gathering steam in another category they are giving consumers the opportunity to show their style in this aspect of their life as well.  If a company does not pay attention to the trends they run the risk of losing customer base. For instance, a manufacturer can develop a great washing machine, but if they do not understand the increased importance consumers have placed on the role of the laundry room in their homes and the desire for color on large appliances, their efforts might fall flat.  Research and sales have proven over the years to Christine Mau, Associate Director of Packaging Graphics for Kleenex, that "color is just as important as pattern when trying to win the purchase interest of consumers."
I went to Kleenex's website and found this fun tool that really illustrates how they think about pattern and color in the context of how the product will be used.  You select what type of tissue box you want (ex. auto, wallet, cube) and it shows you the pattern options available. The patterns for boxes meant to be used in a car are primarily tight geometric patterns in metallic shades. In contrast, the patterns for wallet kleenex packets are bright colorful florals designed to visually pop in a packed purse.
Cross marketing relationships between brands further proves the value of understanding the style and trend preferences of a brand's client base.  This is exemplified in a recent four page ad campaign for the Volkswagen 2011 Jetta that showcased clothing, jewelry, make-up, accessories and even a teapot to connect with their desired demographic that appreciates great design, but does not want to spend a lot to achieve the look.  The ad copy tells the story.
"We've scoured the marketplace for truly great things you can get right now for very good prices. If you're looking for deals, steals and even great wheels, you're getting hotter."
The message is clear that the Jetta is great style for the price of good, just like the high style, reasonably priced items they featured.  Here one's car is meant to be an extension of both one's personal style and financial priorities.
The inspirations for the next wave of design trends are out there all around us, so keep your eyes and mind open.   Then you too can say "I saw that coming."
Image sources:
Blue color trends compilation from Oprah, March 2011
Drapery color samples from Restoration Hardware
The Birds from IMDB.com
Furniture and fabric product shot from Villa Roma
Color Mix 2012 image from Sherwin-Williams
Kleenex boxes from Kleenex.com
Jetta ad scanned from a magazine
Tags: color, interior design, Pattern, trend
Posted in Color Pulse, Industry Updates | No Comments »