Striped Mural Painting Tutorial
May 25th, 2012
Perhaps you've seen the preview photos of the mural we created for the Gift Wrapping & Sewing Room at this year's ASID Showcase Home.  If not, check out this past post.   
Inspired by that design I decided to paint a similar design in my own nursery.
My original color palette was going to be a medium deep red, navy and jade green with perhaps a crisp white accent to tie into the trim and furniture color.  But my husband, John, thought it would be too sophisticated after he saw all the patterns and prints at Babies R Us for kids blankets, clothes, and crib sets.  Normally he doesn't care strongly about my color selections (especially since I do all the painting), but since he had an opinion I decided to tweak the plan for his sake.
I was originally going to have the stripes wrap around the two left walls above, but he asked me to carry them around the short wall on the right to die behind the large bookshelf that will go back against that wall.  The image above shows how the  stripes would have died into the ceiling originally, so I needed to tweak the tape placement for the wrap around to work.
Here is the adjusted overall layout.
The next step is to determine how many colors you want to use, and then subdivide each wall section using your painters tape. Keep in mind that the color will go in between the tape lines for the outside stripes, but the inside stripes are only illustrative of the width you want. You'll have to go back and retape those areas once the outside lines have been painted with multiple coats.
You can certainly keep your stripes a consistent width the whole way, but I think it would actually be trickier to eyeball, and I like the dynamic motion the changing widths creates.  Don't forget to press your tape down thoroughly!  They'll be less touch up later if you do this now. Pay special attention to inside corners as paint especially loves to drip there.
I think this was after 1 or 2 coats of the first round of paint colors had been applied. Certain colors are more transparent and will need more coats to reach your ideal finished color. Reds and oranges are definitely in this category.
After 3 coats of each color had dried I was able to peel off all that tape and see what I had. Love it!  I decided to use the base wall color as a stripe between the orange and green. I simply used a wider piece of Frog Tape to mask off that area, giving me a nice width line without effort.
Now those stripes look great from across the room, but up close you can see there was a fair amount of fine bleed through along each stripe. But don't let that scare you!  All you need is a tiny paint brush and your wall color to fix that.  You can see at either end of the orange stripe above that the line is wavy instead of crisp. The middle section is sharp because I'd just gone over that area with my base wall color and my little paint brush.
When I say "little brush" I mean it.  My brush is probably the equivalent of the smallest brush on the right side below. This is a set from Dick Blick.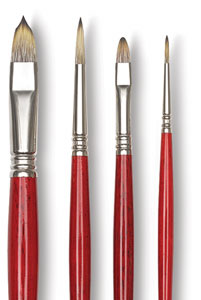 The key is to rest your hand against the wall for stability, and to work in small sections. The 3 coats of your stripe color you painted will have created a small ridge at the edge where you had the tape. The brush will glide along this edge the same way you cut into a ceiling line. Start by putting your paint brush down just a little ways away from the ridge and glide down to the ridge to paint over the color bleed through areas.  It may sound like a daunting task, but I find it addictive ("Just one more section before I go to bed…"), and I don't think it really takes that long.
Before I started working on cleaning up the edges of the completed stripes I masked off my last color.  If you place your tape right up against the ridge created by the adjacent paint stripes and press FIRMLY along the entire length of the tape, you might not have to do ANY edge clean up on the last color. This is because that ridge helps block any paint that wants to sneak under your tape.
I did 3 coats of the blue as well since it wasn't coming out quite like the paint sample and I wanted to make sure to give it enough coats to reach it's full potential.  While that dried between coats I was able to work on my touch ups around the red, orange and green stripes.
And here is the completed mural!  It may seem like this took a lot of work, but the whole project only took 7 hours over 4 days.  For a large impact like this, that seems really quick! Especially since the mural at the Showcase Home took us closer to 30 combined hours. Painting over the paneling and trim at the Showcase made it much trickier, plus all the extra trips back and forth.  When it's your own house you can take a break between coats of paint and come back an hour later.   The amount of paint you need for each color is minimal. I probably used about an inch or so of paint from each quart paint can, so you might even be able to achieve this using only the sample size pots of paint they now offer.  Or you could reuse existing paints from other projects.
I'll show the completed room down the line, but the hardwood floors need to be refinished before I can move anything back into that room, so it'll be a little while.
Have a great Memorial Day weekend!
Tags: ASID Showcase Home, interior design, mural, nursery, paint, Showcase Home, stripes
This entry was posted on Friday, May 25th, 2012 at 10:37 am and is filed under Color Pulse, Design & Home Living Tips. You can follow any responses to this entry through the RSS 2.0 feed. You can leave a response, or trackback from your own site.